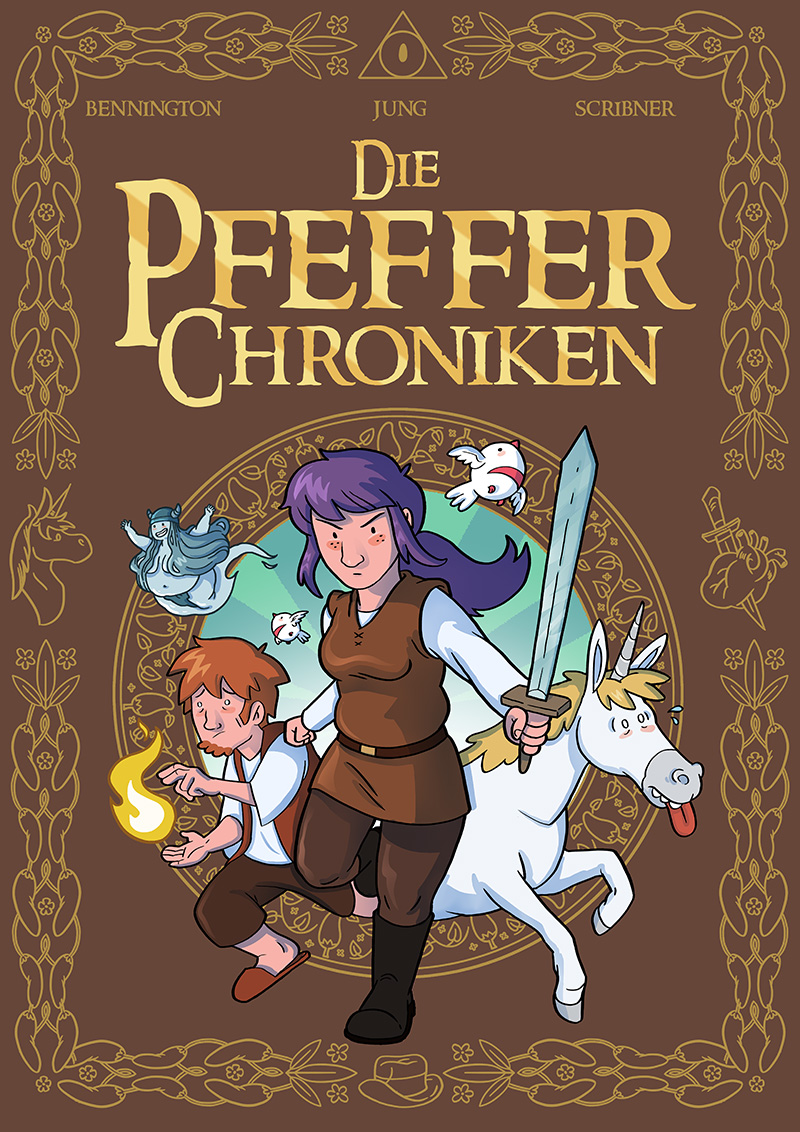 "Die Pfeffer-Chroniken" (German edition of "The Pepper Chronicles available HERE: Die Pfeffer Chroniken
) by Anna-Maria Jung (Storyboards, Pencils, Colors, Lettering), Rebekie Bennington (pencils, inks) and Daniel Scribner (script)
In a little village on the banks of the Unicorn River, life is peaceful and happy, but a village without crime is no place for Mara Payne, intrepid guard of the night watch! Now she's on her way to the grand city of Acco with a saddlebag full of justice. Her quest for nefarious crimes to fight and dastardly skulls to bash will take her into the darkest heart of a city full of corruption and conspiracies. But the gruesome murders she uncovers are nothing like the stories Mara read of as a little girl, and they may be more than even she can beat down with her two fists of righteousness…
200 Pages | German edition is set for June 2017 at Zwerchfell Comics
More info at pepperchronicles.com
"Star Trek: Redshirt's Little Book of Doom" by Robb Pearlman (author) and Anna-Maria Jung (Illustrator)

Poor Red Shirt just can't catch a break. Whether he's dealing with real-life problems we all face like accidentally mixing whites with colors or being stuck sitting behind a very tall Gorn in a movie theater or trying out a standup comedy routine in front of an audience of surly Klingons, our hapless hero faces a universe-sized number of obstacles.
Featuring hilarious illustrations and witty gags that both pop culture fans and Star Trek fans will adore.
64 pages | Insight Editions (2016)
Get it at amazon: Star Trek: Redshirt's Little Book of Doom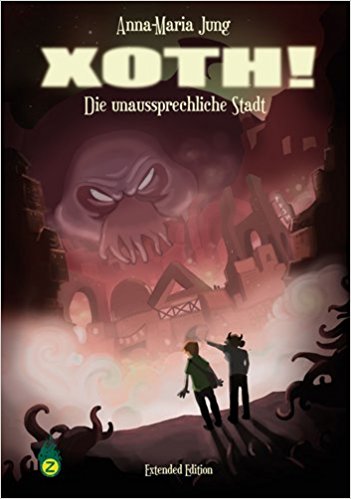 "Xoth!" by Anna-Maria Jung
A graphic novel set in the Lovecraft universe – original language is German.
An einem seiner vielen ereignislosen, langweiligen Abenden beschließt der junge Jacop O Damsel, freiberuflicher Nerd, sich besoffen in einem Hinterhof schlafen zu legen. Blöd, wenn ausgerechnet da plötzlich ein intergalaktischer Dimensionsschlürfer auftaucht. Bevor Jacop überhaupt die Chance bekommt, einen Kater zu haben, nimmt ihn das Ding auch schon einfach so mit. Jacop wacht in Xoth auf, einer fremden Welt voller abartiger Kreaturen oder sollte man sagen: geradezu unsagbar grauenhaft?
Vor dem Hintergrund von H.P. Lovecrafts Cthulhu Mythos entwirft Anna-Maria Jung eine Geschichte voller Monster, Nerds, Monsternerds und Nerdmonster. Und der Mann aus der Angell Street kommt auch drin vor.
100 pages | Zwerchfell (2007)
Get it at amazon: XOTH! – Die unaussprechliche Stadt (Extended Edition)